Cover: Chopard L.U.C XP Urushi – Year of the Rooster The Chinese new year, which begins on January 28th 2017, appears under the sign of the Yin metal rooster, the theme depicted on an exceptional lacquered dial made using ancestral Urushi technique. Hand-crafted in Japan by a master lacquer artist, this applied arts masterpiece adorns a new interpretations of this ultra-thin and eminently refined L.U.C watch. Chopard dedicates an annual limited series of L.U.C XP watches to the Chinese Zodiac, thereby uniting Swiss, Chinese and Japanese traditions within these timepieces. Switzerland is represented by Chopard Manufacture and its L.U.C XP model featuring an ultra-thin movement and prestigious finishing. Japan expresses its expertise in the field of precious lacquer, enriched with mother-of-pearl marquetry. And finally, China showcases its culture through the rooster symbolism picked up on the dial of the new L.U.C XP Urushi – Year of the Rooster. The rooster is a divine messenger, heralding the dawn and crowing to chase away demons. It is considered honest and frank, two qualities that those born under this Earth sign are believed to share. These resourceful and quick-witted individuals naturally tend to work in fields which involve making diagnoses and maintaining order. Full of energy and naturally pugnacious, the rooster adopts an active and perseverant attitude. He is endowed with excellent oratory skills and loves to give advice… to the point of not listening to that given by others, whom he instinctively distrusts.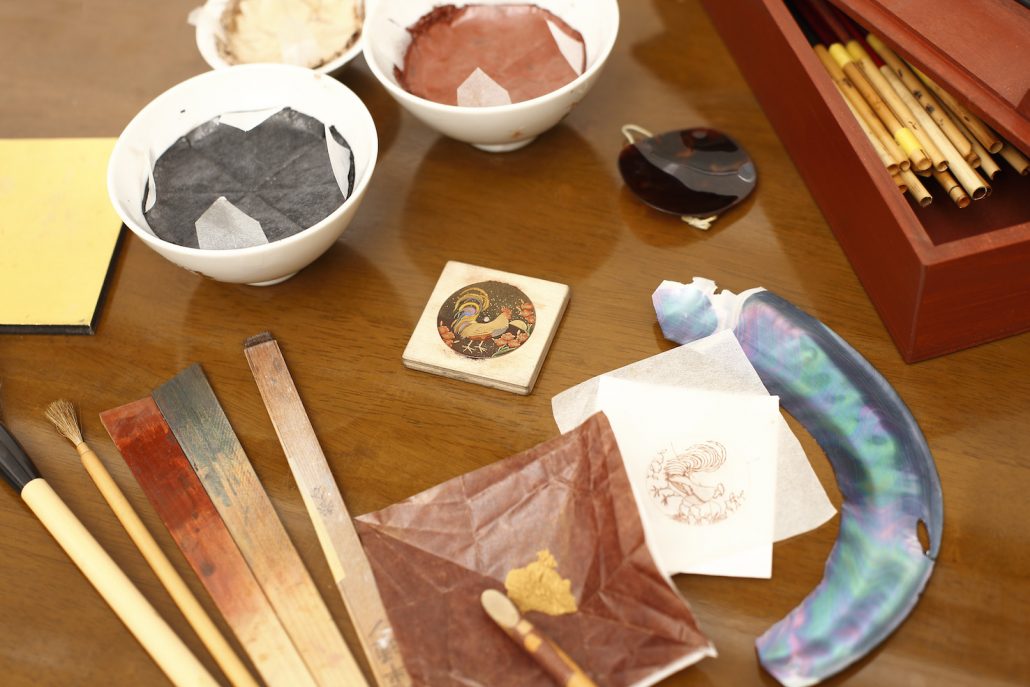 Preserving an ancestral skill In Japanese traditions, the sap of the "Lacquer" of "Japenese varnish" tree is skill-fully harvested, aged and treated to become a lacquer. This extremely hard material is applied in a number of extremely thin layers. The Urhushi master uses it to imprison tine purpose-cut mother-of-pearl fragments, which further enhance the dial of the L.U.C XP – Year of the Rooster. The animal is depicted in all its majestic splendour, head held high and feathers puffed out, against a glowing sunset backdrop. Alongside it are eight gladioli symbolising good luck. These techniques call for extraordinary meticulous care. They are mastered only by craft masters with longstanding experience. The latter dedicate their life to improving their art, performing ever operation with a view to achieving excellence. These virtues stem from an ethic of the fine workmanship shared by Chopard. To create this precious dial, as with all previous L.U.C CP Urushi editions, Chopard has worked with its loyal partner: the Yamada Heiando firm which is an official purveyor to the Japanese imperial family. Together, they have called upon the services of Master Kiichiro Matsumura, acknowledged ad the finest exponent of this art. Raised to the rank of "living human treasure' in Japan, he designed and supervised the creation of all the dials, which were personally executed by the highly skilled Urushi master Minori Koizumi.
An exceptional mechanism stemming from Swiss watchmaking tradition This Far Eastern nobility is matched by the Swiss nobility of L.U.C watchmaking as practiced by Chopard. This exceptional dial is housed in a L.U.C XP case. Its dainty bezel, its slimness and its restrained diameter make it a finely wrought receptacle admirably highlighting the artistic accomplishment of the Japanese craft masters. It is also complemented by the excellence of the L.U.C 96.17-L movement. This Haute Horlogerie self-winding movement is extremely thin thanks to the use of a micro-rotor. The latter is made of 22 carate gold and incorporated into the overall thickness of the movement so as to combine slenderness with practicality. Equipped with two barrels ensuring a substantial 65-hour power reserve, this calibre is finished according to the highest aesthetic quality standards. With its beveled and polished chamfers, polished screws, bridge adorned with a Côtes de Genève motif, it too stems from a demanding approach firmly geared towards the long term. The very attitude that governs Chopard Manufacture in its dedication to creating the very best on both aesthetic and symbolic levels. A hand-sewn black alligator strap adds the hint of elegance inherent in each watch of the L.U.C collection, intended for modern gentlemen who love to distinguish themselves by means of watchmaking works of art endowed with unique dials.In 18-carat rose gold, 88-piece limited edition with special "Year of the Rooster" dial. Chopard boutique exclusive.