By Rachael Taylor
When I ask Alessio Boschi how he is, I get an unexpected reply: "I'm a mess. You find me in a mess." This surprisingly frank answer is typical of the Italian jewellery designer, whose openness, he says, is both his best and worst attribute.
The reasons for his turmoil are deeply personal, and while he is happy to share, I am not. What I will say is that the pressures of love and family and those big life decisions that we all struggle with are weighing heavily on Boschi right now. But rather than let it get him down, he feeds off these experiences.
"The meaning of life is experiences," he says. "It doesn't have to be a positive experience, we should be open to things that are not good. Let's grab it – this is my approach to life."
As this mantra suggests, Boschi is in fact a hugely positive person, and fun to be around. In addition to his endearing transparency and warmth, his passion for his work shines through him, visibly illuminating him as he grabs sketch book after sketch book – he draws everything by hand, even in the final design stages – to show me his work, and also all the elements that have come together to inspire him.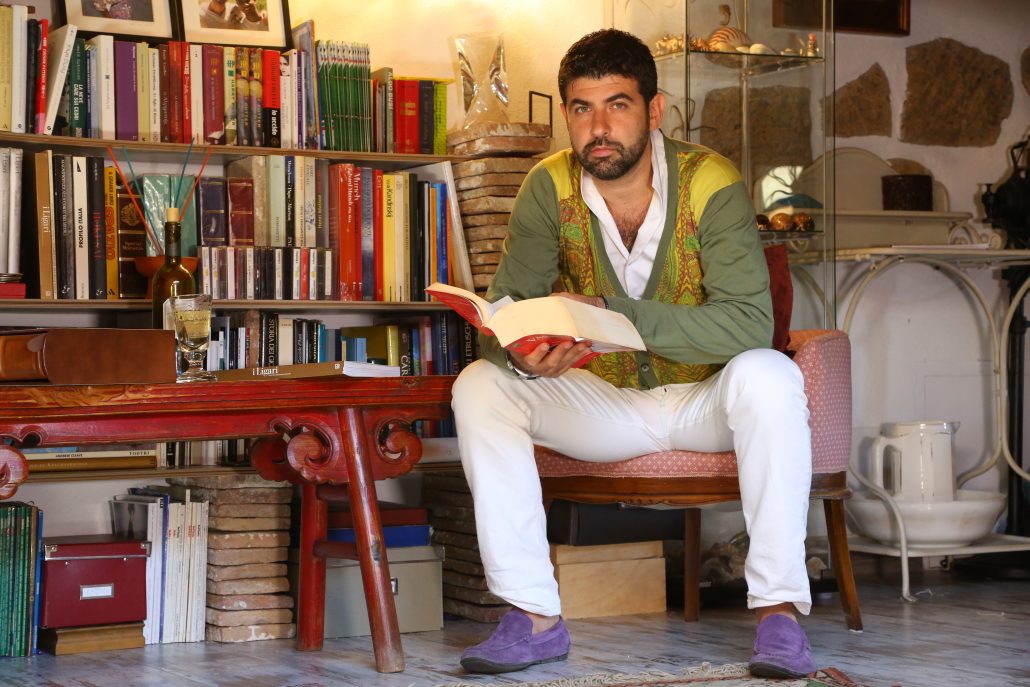 Alessio at home in Bagnoregio
Travel is a major inspiration for Boschi, and at the moment India is holding his fascination. He has long romanticised about the country and recently got the chance to visit when a gem dealer friend invited him to join a family wedding, during which he was put up in the tower room of an Art Deco-Mughal palace once used by the Maharajas.
"I took 2,000 pictures – the carvings, the wood, the sandstone – I was in a dream," says Boschi. "I had always looked at books of such places, and I thought now I am in the book."
This trip resulted in a new design called Breakfast in Jaipur, in homage to Boschi's ultimate beauty icon Audrey Hepburn. The ring is so intricate, some of the details so minute, that you would miss them if they weren't pointed out to you, such as the fact that the buff top-cut emerald cabochons set into its side mimic Mughal architecture or that what appears to be millegrain at first glance is actually tiny micro-set diamonds, one fifth of a point of a carat.
This attention to detail and the hidden surprises are at the core of Boschi's work; his are jewels to be pored over. "If you only have five minutes to look at my work, don't bother," he says. "If you can't spend at least half an hour with me, you won't understand my pieces."
Because of these technically challenging designs, Boschi, who before setting up his own brand worked as creative director for pearl specialist Autore, needs to work with the best craftsmen, which he believes are in Thailand. And such is his devotion to his art that he moved his whole life to Bangkok to be near all the workshops that turn his creative visions into reality.
But while he might be living in Thailand, it is not home. For Boschi, home is in rural Tuscany where he owns a 300-year-old house in Civita di Bagnoregio just outside World Heritage Site Castiglion d'Orcia that he has lovingly restored since buying it online.
And this is just one of the emotional struggles that Boschi is battling through, that tug between his work and his desire to spend more time with family and friends back home. It is a universal battle, he knows, and one that he finds inspirational. "You ask me who my hero is, and for me it is a normal person struggling through the difficulties of life – money problems, health problems – but they are still going."
To celebrate these heroes, Boschi has created a truly avant garde design called The Survivor, a titanium brooch set with rubies and spinels, crafted to look like a splash of blood. And at its heart erupts a nail taken from the rotten wooden door of a 200-year-old Italian church. When worn over the heart, it gives the impression of having been stabbed in the chest. The vision is gruesome, but the message of celebrating surviving all that life can throw at you is empowering.
Boschi's professional motto is a phrase that he uses across his branding: a precious journey. It perfectly captures the stories, hidden details and enormous amount of work that goes into the creation of each of his jewels, but it also sums up where he finds himself in life right now. While he may be struggling to find the right path, he is, to use his own words, at the precipice of "a moment of change", and for someone who so highly values life in all its moments of darkness and light, the journey will be very precious indeed.