Cover: JEWELS Black rose deaddress by Basia Zarzycka; citrine and brown diamond earrings and matching ring (left hand) by De Grisogono; two-finger ring and spike ring (both right hand) by Maria Francesca Pepe. FASHION Chiffon floral dress by Pinko.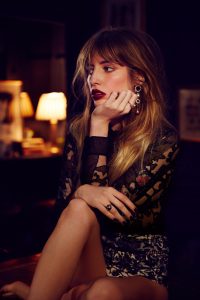 JEWELS assymetrical white gold, diamond and pearl earrings, Tahitian pearl ring, golden pearl ring, all by Mikimoto. FASHION Black laser-cut organza shirt by Red Valentino; Ruffle printed high-waist bikini bottoms by Zimmerman.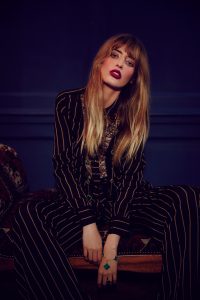 JEWELS Crystal necklace by Swarovski; Alhambra malachite and yellow gold necklace and matching bracelet by Van Cleef & Arpels. FASHION Striped trousers and shirt by Pinko.

JEWELS Black rose headdress by Basia Zarzycka; flat leather sandals by Prism; diamond hoop earrings by Fabergé; diamond and white gold necklace by Harry Winston; Camelia ceramic rings, all by Chanel Fine Jewellery. FASHION Crepe de chine trousers and top, both by Marlene Birger.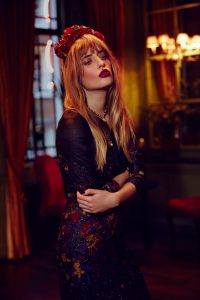 JEWELS Red floral headdress by Basia Zarzycka; silver hoop earrings by Maria Francesca Pepe; white told, diamond and pearl necklace by Mikimoto. FASHION Floral mesh long sleeve top and pencil skirt, both Malene Oddershede Bach.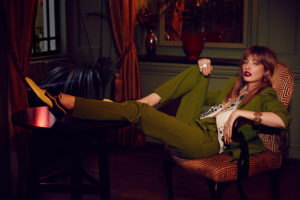 JEWELS Rococo earrings by Fabergé; antique bracelet by Basia Zarzycka; Alhambra gold and mother-of-pearl through-the-fingers ring by Van Cleef & Arpels (right hand), two Rococo rings (one of left hand, one on right) by Fabergé. FASHION Green suit by Todd Lynn; embroidered waistcoat by Temperley London; brogues by Marni;
Photographer: Elizabeth Gibson, Stylist: Clare Lazaro