The house of Rykiel, whilst undeniably as iconic and rich in history as the legendary fashion houses of Chanel, Dior and Louis Vuitton, is very much a family affair. Its allure stems from the personality of the incredible women at its helm. Since opening her first boutique on the rue de Grenelle in Paris in 1968, celebrated fashion designer Sonia Rykiel has changed the way women dress across the globe. Dubbed The Queen of Knitwear, she first started making clothes when she was pregnant and couldn't find anything she wanted to wear. Her daughter Nathalie Rykiel paralleled this first conception, creating her inaugural collection for Sonia Rykiel, named simply Rykiel Enfant, whilst pregnant, after a stint modelling for her mother. And that baby, Nathalie's daughter Lola, now heads up the PR for the label in New York. Currently vice-president of Sonia Rykiel, Nathalie's accomplishments as creative director included conceptualising a second line of ready-to-wear clothes, Sonia by Sonia Rykiel, as well as a selection of Rykiel perfumes, the label's first lingerie collection and two successful collaborations with H&M. Nathalie has also written two books, the autobiographical memoir Tu seras une femme, ma fille and The Elegance, as well as being the artistic director for Le Monde's 20-volume-long The Classics of Libertine Literature in 2010. In 2012, she was awarded a Lifetime Achievement Award by ELLE magazine and in 2015, France's Minister of Culture made Nathalie a Commander of the Order of Arts and Letters. Now this most accomplished fashionista speaks to JFW about all the things that make her tick.
What is your mantra?
I have taken a lot of time to find myself, to find out who I am, but I have no regrets about the path I've taken. I don't know if this counts as a mantra, but what really interests me is tomorrow, the future. I love the madness of life, of creating, of the emotional world of a woman. Loving and being loved. I thrive on love. I want to have everything in life, truly.
The whole world is obsessed with the nonchalant style of French women. What's the secret?
The French woman is not afraid of being different from the others. French style is about attitude – that combination of allure and self-confidence, mixed with individuality. French women always give the impression of seduction and sensuality, without being ostentatious or obvious.
Who do you admire most?
My mother.
Whose style made a lasting impression on you?
Audrey Hepburn. When I was little I watched her try on and buy the first sweaters created by my mother. It was at the Laura boutique owned by my parents. She has an innate sense of elegance that appears to come from within her. That is true style.
How integral do you believe your mother was as part of the 1960s and early 1970s revolution to liberate women's bodies and celebrate a new mood of freedom and love?
She was incredibly important. Women had never seen anything like my mother's sweaters when they were featured on the cover of ELLE magazine in 1963 – and when Brigitte Bardot wore them, they caused an outrage. My mother was an integral part of that attitude – being free-spirited, intelligent and unconventional with her designs and her attitude to living. She's always had the power to inspire by following her own vision.
You always look naturally radiant. What beauty products do you swear by?
I love Laura Mercier's tinted moisturiser (I mix two colours to get the exact shade of my skin) and their blush in Rosebud. I'm also a big fan of Sisley. I adore their Eau Florale, which wraps me in a gentle cloud when I wake up in the morning.
What three things can't you live without?
Frozen yoghurt – when I'm in New York I eat it twice a day! Knitwear of course, it's an absolute must-have whatever your age. And family; I speak to my three daughters every day.
Which city most inspires you?
Paris, of course. I am a woman of the Left Bank. The other side of the Seine is a foreign country to me.
How do you relax?
I love cooking and having people over to eat. I also adore baths. I love to use bath oils and light lots of scented candles. I'm a big fan of having flowers around the house, mostly dark-pink roses, which are my favourites.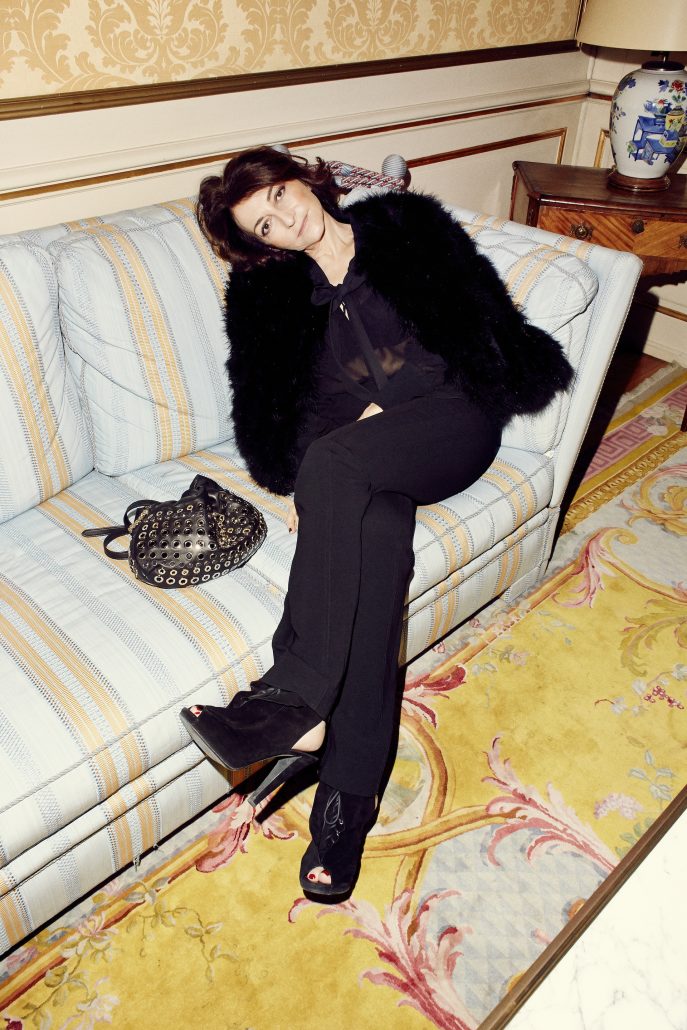 By Isabelle Dexter