When the Vetements collective burst onto the Paris fashion scene two years ago, many of the traditional fashion community had no idea what to make of it. Nor of its show full of distorted and mismatched street style shapes, modelled by the designers' friends and sporting distinctly non-street style price tags. But a whole set of young observers got it immediately, and that it was all about disrupting the current system of fashion controlled by luxury brands owned by vast conglomerates, and providing proof that relatively small-scale designers working from the bottom up can still succeed.
Now things have moved on. Vetements is the coolest brand on the planet, copied by every other aspiring under-the-radar designer, and collaborating with serious and historic names on traditional items that it twists in its own distinctive way. The prices are truly stratospheric and its leader, Georgian-born Demna Gvasalia, has landed an additional gig as the latest designer at venerable couture house Balenciaga.
Vetements and its associates remain a tight-knit (and mainly anonymous) group whose influence is spreading as they get involved with other projects, transferring their notable style to brands that would rather work with them than copy them.
Vetements is the latest in a long line of fashion's secret societies – groups of like-minded individuals whose combined thought processes, working outside the mainstream and united in their vision, suddenly surface and create a paradigm shift in fashion that moves the whole industry in a new direction.
However imaginative a designer is, they rarely work in a vacuum. It's the cross-flow of ideas with their associates, from muses to pattern cutters, that creates the spark. Thus these little groups, often with similar unconventional creative backgrounds, form and their influence spreads like ripples in a lake through friends who share and understand their mindset, even if it startles the rest of the world when it is finally revealed.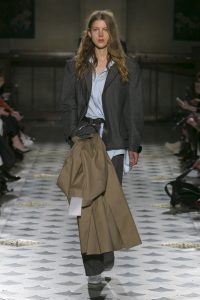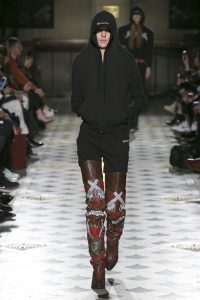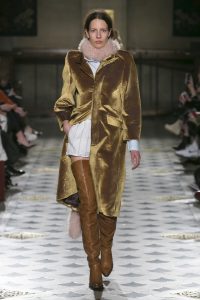 So Christian Dior's post-war, full-skirted New Look was honed to perfection by his closeness to the curvy but tiny-waisted model Victoire Doutreleau, and the over-the-top sophistication of nightbird Mitzah Bricard, who had a passion for leopard skin.
When Yves Saint Laurent became the world's hottest designer in the 1960s he already had the commercial expertise of his business partner and lover Pierre Bergé to rely on, and his radical designs were soon worn by his close friends such as beatnik-inspired and Bohemian muses Loulou de la Falaise and Betty Catroux. They helped to popularise and publicise his then-revolutionary, androgynous style of tuxedo trouser suits and black leather jackets, and were the kind of liberated women who embraced his modern concept of ready-to-wear rather than made-to-order couture, which changed the industry forever.
More recently, John Galliano's working relationships with milliner Stephen Jones, set designer Michael Howells and stylist Amanda Harlech produced a romantic, story-telling style of creativity all their own. Many see this as a high point of late 20th century fashion, matched in a darker, more dramatic way by Alexander McQueen's working partnership with the late Isabella Blow and Sarah Burton, who took over after the designer's death in 2010 and is still at the helm. Galliano is now designing for Maison Margiela, which pioneered the anonymous designer approach and where, incidentally, Gvasalia also once worked.
Designers have associated themselves with the music business too. Hedi Slimane, who designed at Saint Laurent for four years until last March, moved the studio to Los Angeles, where he brought an arts-and-music-influenced punk style to the brand.
Also close to the music business is Alessandro Michele, the in-house designer at Gucci promoted to creative director in early 2015, who – to great acclaim – has changed the house image from urban sex bomb to quirky maximalism. His most notable connection is individualist British singer Florence Welch, who is currently his ambassador for the brand's watches and jewellery.
Each of these designers succeeded in making an unexpected difference in fashion, which they created with their own associates before unleashing it on the business.
The Vetements story is no different and comes at a time when fashion is ripe for revolution. A younger generation is bored with mass luxury: the identikit stores worldwide, the apparent emphasis on making money rather than creative ideas, the hysterical circus of shows that are all about front-row celebrities and social media coverage rather than directional design.
The raising of normcore street style to an art form appeals to them, and so the Vetements approach strikes a chord. Its androgynous styles and unconventional models appeal, as does its highly influential stylist Lotte Volkova, who sometimes appears on the catwalk and who has been asked to transfer her dour, slightly industrial style to other brands, including Mulberry in London. Not to mention its ability to persuade authentic, old-school brands to design the Vetements way – Manolo Blahnik's waist-high satin waders being the perfect example.
Whether £300 T-shirts carrying the branding for parcel courier DHL work for young agitator consumers is another matter, and there are already accusations of selling out. Vetements might be laughing all the way to the bank, but the chances are that the next fashion secret society is already fomenting creative dissent somewhere underground.
By Avril Groom