[:en]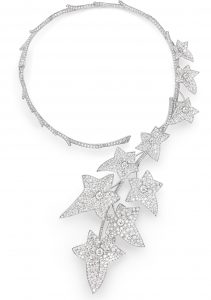 By Rachael Taylor
As the rest of Paris got whipped up in the romance of the intricately crafted, made-to-order floor-sweeping gowns that have made the city a centre of couture since the 1800s, the jewellers of the city's most prestigious square clicked on mood lighting in luxurious showrooms ready to introduce the latest haute joaillerie.
Couture Fashion Week is held twice a year, and is very much an invite-only occasion for select editors and top clients. Those lucky enough to be admitted to the jewellery showcases that pop up during the week will find themselves in rooms with millions of pounds-worth of show-stopping jewels and rare gems. Having just returned from the January edition of this spectacular extravaganza, here are my top 10 jewels from Paris Couture Fashion Week.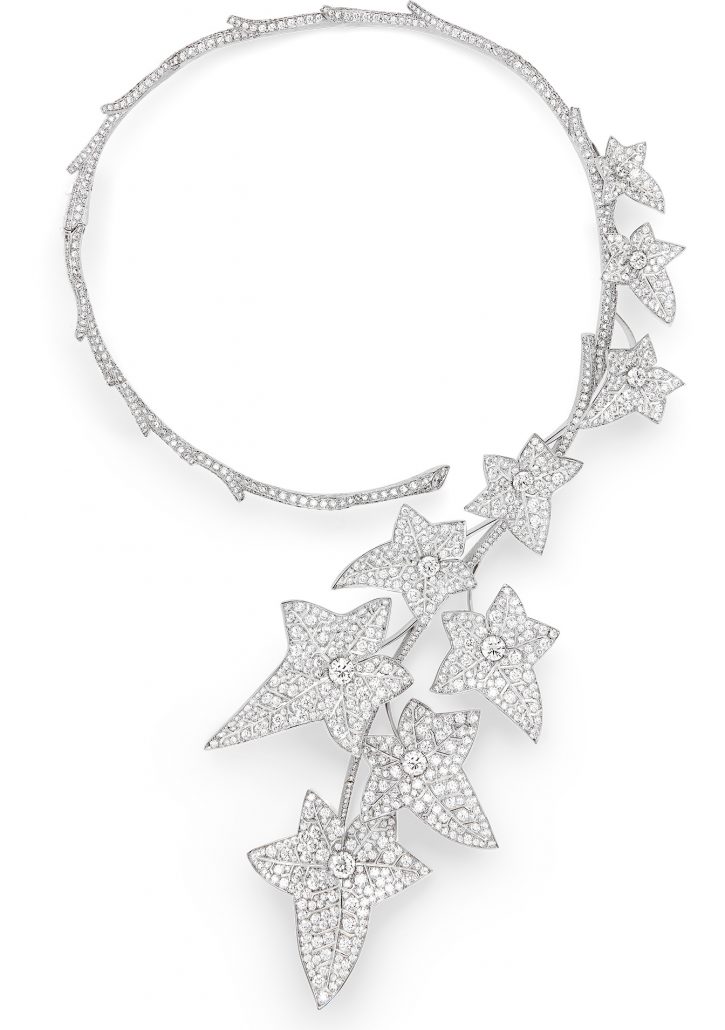 Lierre de Paris by Boucheron
In a room creeping with ivy, Boucheron presented the latest jewels to sprout from its Nature Triomphante collection, and this white gold and diamond collier certainly triumphed in the city. Designed to wrap around the neck like a question mark, its dazzling leaves have been set en-tremblant to quiver and sparkle with every movement.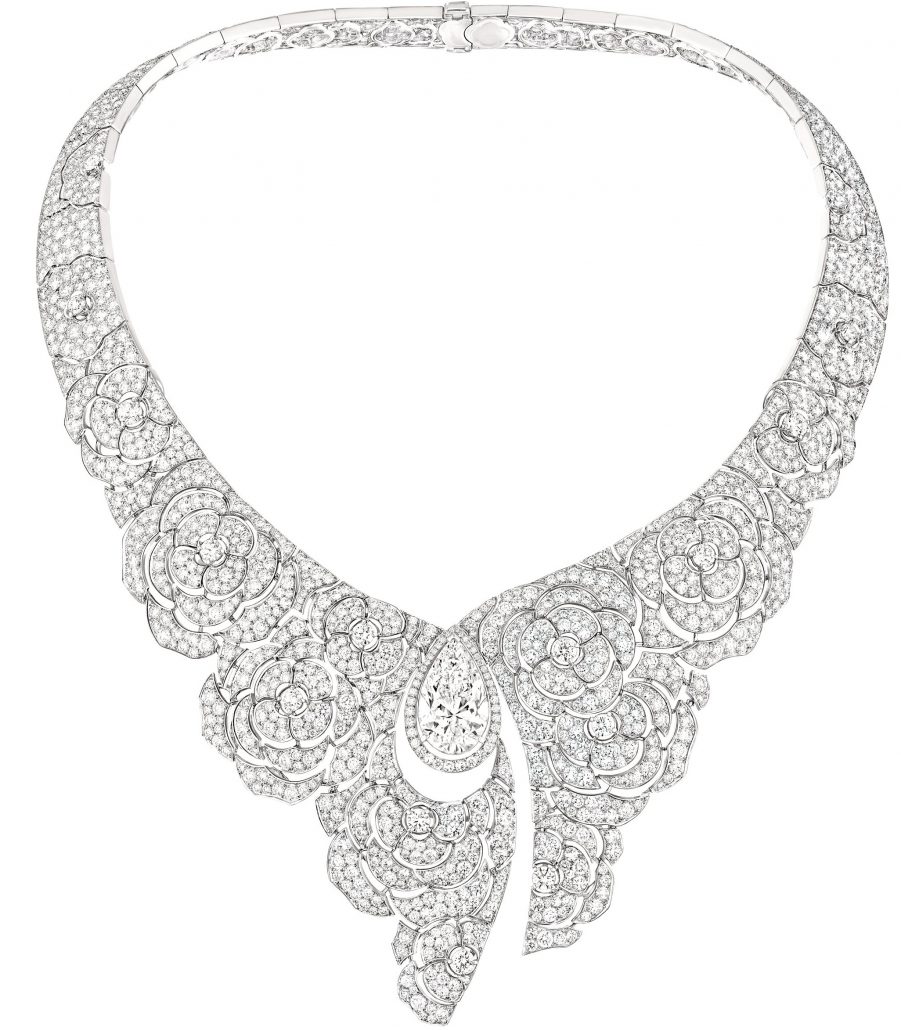 Coco Avant Chanel by Chanel
Chanel's latest high jewellery collection is dedicated to Gabrielle Chanel's life before she became a fashion magnate, and each jewel is named after and inspired by a friend or family member. With a price tag of more than €3 million, this necklace was the star of the collection and is named after the designer herself. Impressively, the one-off creation has been crafted from a single piece of white gold and set with 1,584 diamonds, including a central pear-shaped stone of more than 10cts.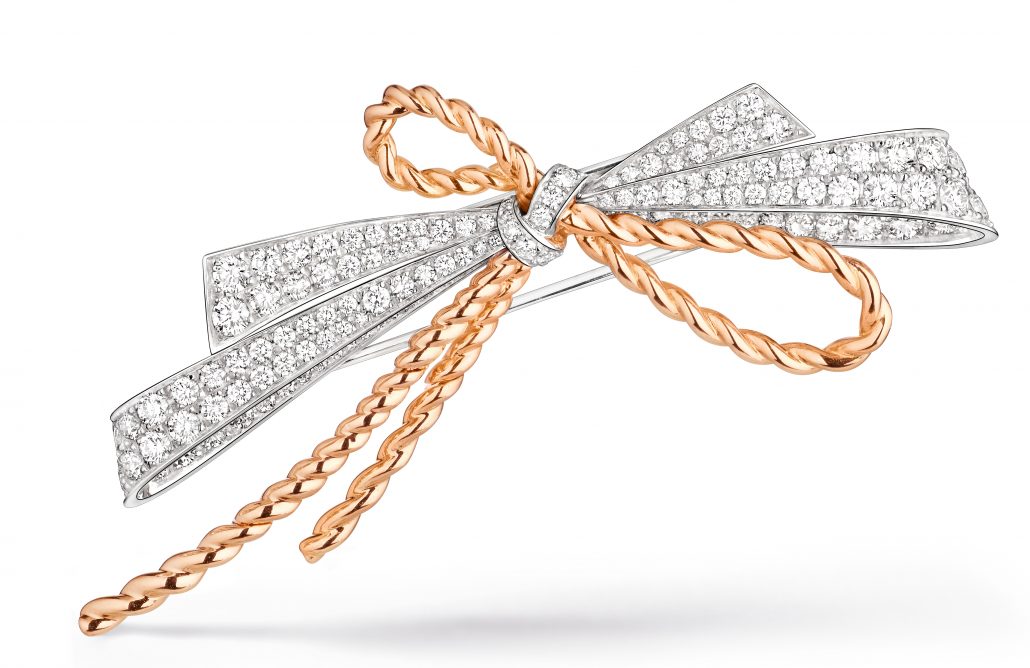 Insolence by Chaumet
Brooches have come back into fashion, and this white and rose gold design set with diamonds by Chaumet silently communicates a very modern and seductive message. Insolence takes on one of the house's oldest motifs, the bow, but this playful, loosely tied version is designed to indicate that one is ready for fleeting connections, not eternal bonds.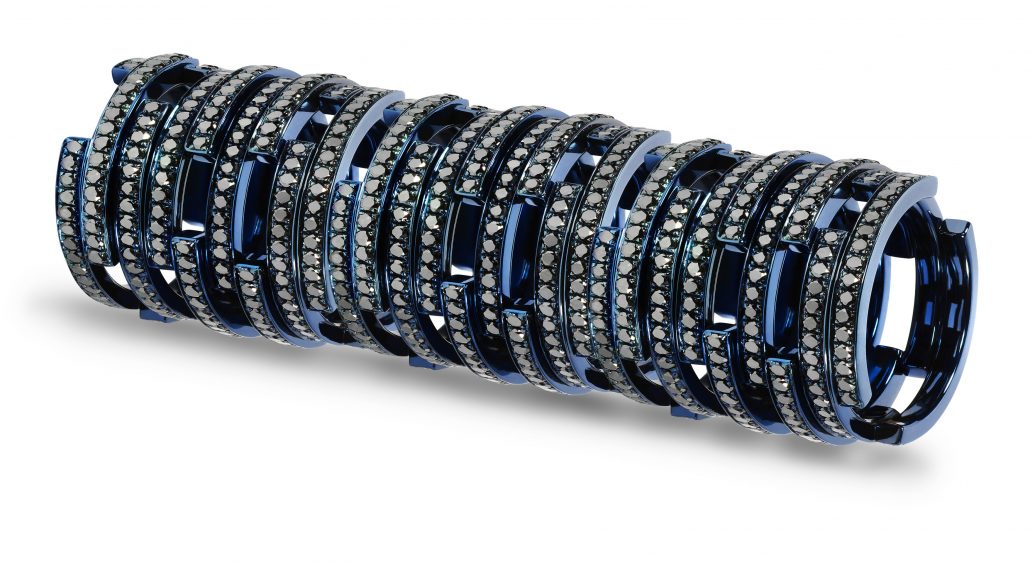 Volume by Dauphin
Dauphin has taken on the concept of modular jewellery to create stackable diamond-set bands that can be fitted together to create rings, pendants and even accessories for earrings. These bands from the Volume collection have been made using blue gold, a signature metal for this modern maison.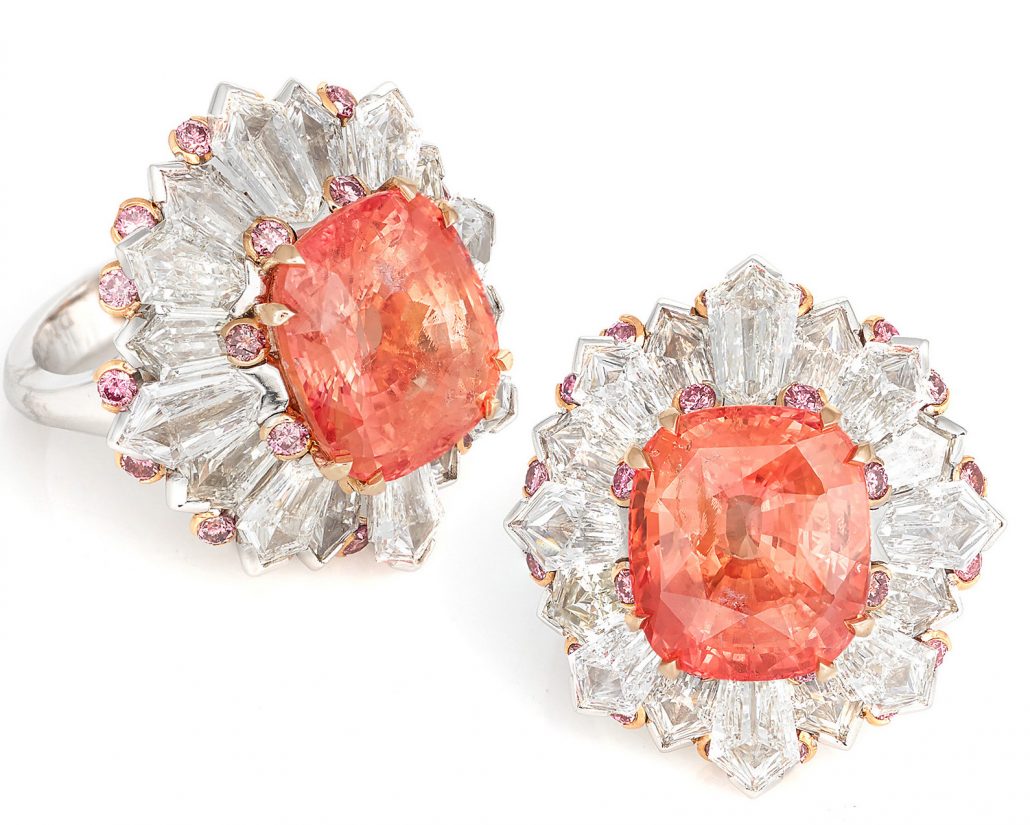 Padparadscha sapphire ring by David Morris
The British jeweller opened its first Parisian store just a few days before Paris Couture Fashion Week, and to mark the occasion some of its most lavish designs were flown into the city. This spectacular ring centres around a vibrant Padparadscha sapphire, with kite-shaped diamonds fanning out from this unusual stone, dotted with tiny pink diamonds cupped in rose gold settings.
Grey diamond ring by De Beers
In a small but luxurious private showroom just off Place Vendôme, De Beers laid on a spread of millions of pounds-worth of rare diamonds. Its expertise lies in this best known of gemstones and it showed off its prowess by presenting some of the largest and most unusual diamonds on the market, including this striking marquise-cut grey diamond.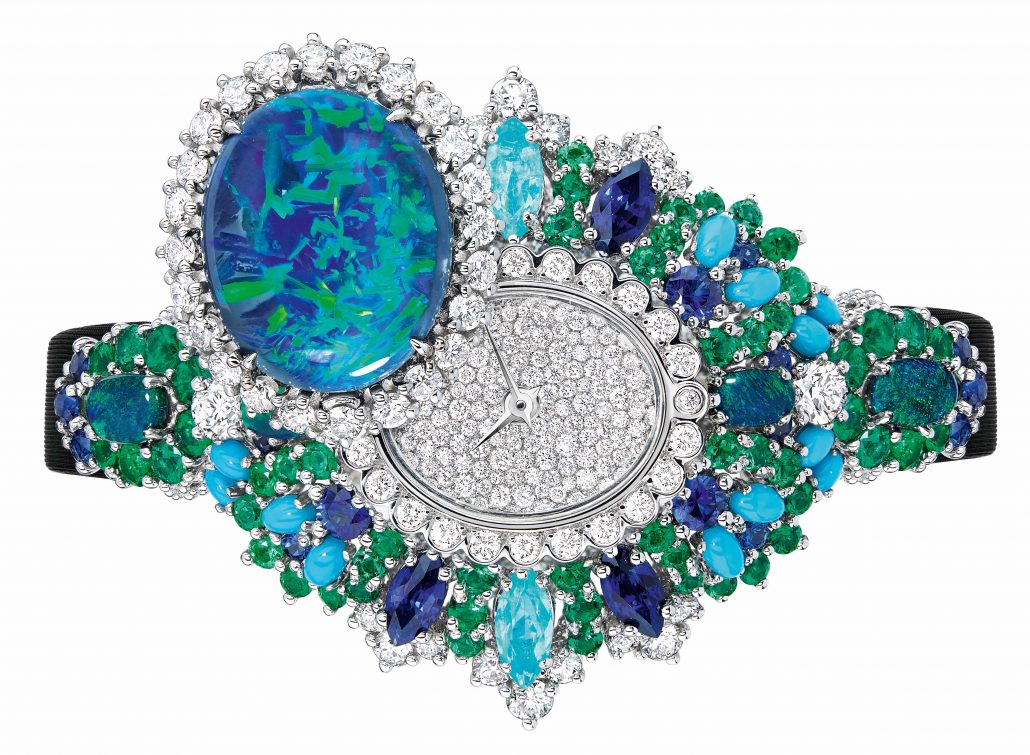 Dior et Opales by Dior
Visionary designer Victoire de Castellane, the creative force behind Dior's fine jewellery collections, has indulged herself with her latest offering, which is dedicated in its entirety to her favourite gemstone, opal. This secret watch was one of the extravagant most designs in Dior et Opales, set with an oceanic selection of sapphires, Paraiba tourmalines, turquoise and emeralds to create a lavish bezel. A hypnotic black opal swivels open to reveal its diamond-set dial.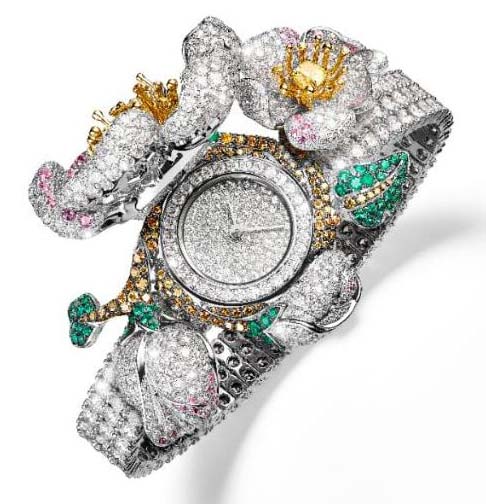 Primavera by Giampiero Bodino
Secret watches were certainly at trend at Paris Couture Fashion Week, and Italian jeweller Giampiero Bodino presented his own vision on this now classic piece of high jewellery. Primavera was one of three watches presented, and uses a bejewelled flower set with pink sapphires, emeralds and white, yellow, cognac and grey diamonds to hide the time. Rather than simply slide to the side, Giampiero Bodino's bloom explodes open to reveal the watch.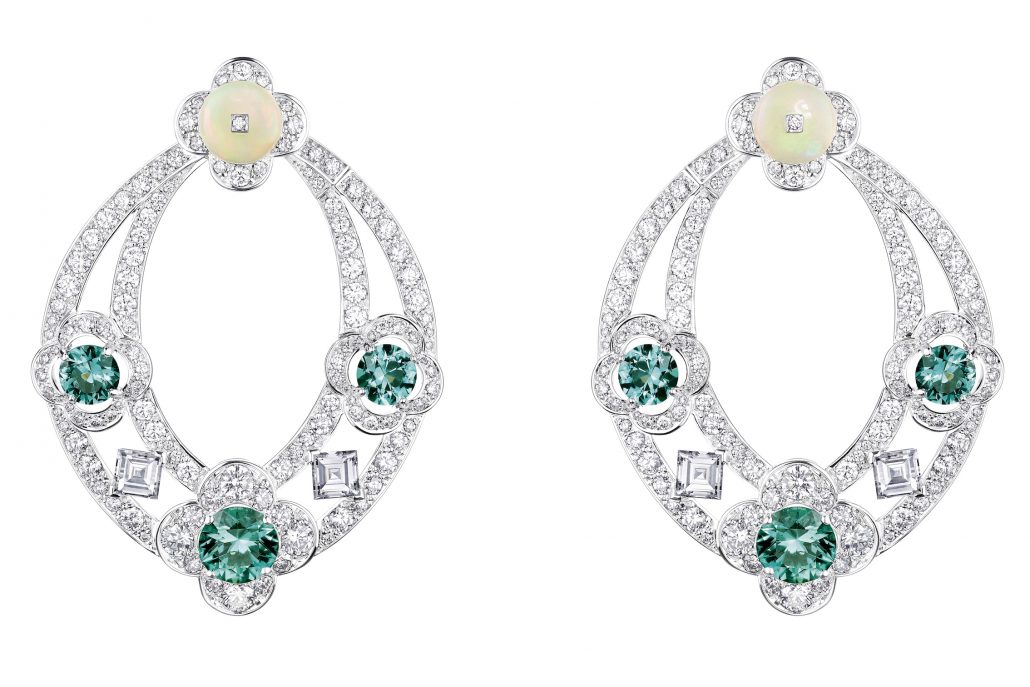 Bloom by Louis Vuitton
Louis Vuitton presented an extension to its subtly branded Bloom collection that included these elegant white gold and diamond drop earrings. The brand's iconic blooms have been repeated around the design and decorated with buds of opals and green tourmalines to create a flash of colour.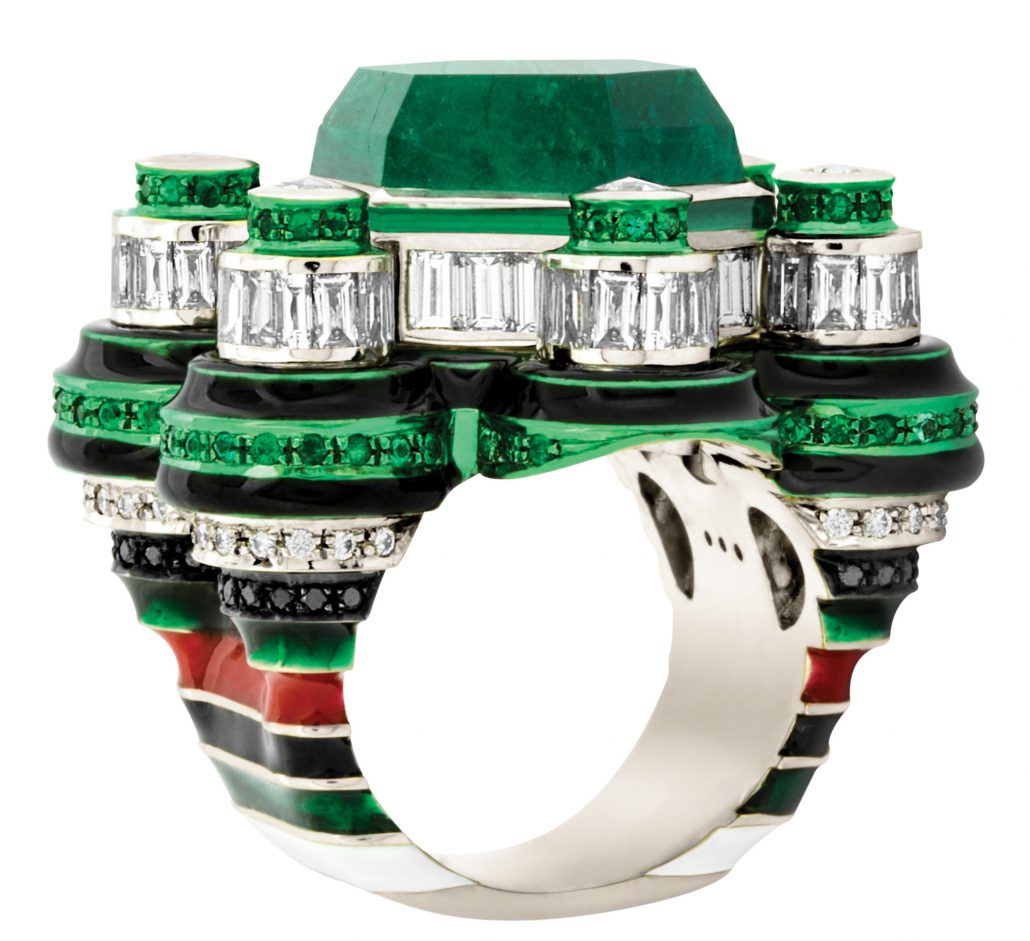 Poptails by Solange Azagury-Partridge
In the hip Hôtel Costes, Solange Azagury-Partridge introduced us to her latest bespoke jewellery project, Poptails. The concept starts with gemstones – future designs will be created around gemstones brought by clients, but the initial eight rings used up stones left languishing at the bottom of her safe – and builds outwards using layers of enamel or ceramic. You can see the process at work in this Space Station ring, designed around a large emerald.[:]