Cover:
Emerald 2 pcs 30.88ct, Pearl 1pc 30.13ct; Emerald, Pearl, Yellow Diamond, Diamond, Pink Sapphire, Conch Shell
Pearls, enchanting treasures from the sea, carry miraculous light from the underwater world. Known as the dew of the sea, they radiate in feminine beauty, symbolizing perfection and happiness. With meticulous craftsmanship, the creator hollowed out two pearls and set inside them diamonds and sapphires, combining classical elegance with contemporary spirit.
In Europe the emerald is regarded as a majestic stone. The emerald green is a color of joy, life, harmony, love and eternity.
Titanium stems reach out and sprawl downwards, depicting the growth of a magical blossom with pieces of conch shell turned into petals, echoing the pearls' smooth texture. The pistils are surrounded by diamond sparkles. Dangling underneath the flowers are two pieces of luxuriant green emerald. Earth and ocean become one.
Wallace Chan is the only Asian Jewellery Artist selected to exhibit at the Fair. His exhibition was regarded as one of the must-see stands at TEFAF 2016, captivating the fair's audience. This year, he is returning with 40 pieces of exquisite jewelry creations: Ruby Castle (Ring) features a 17.58ct Burmese hexagonal-shaped ruby with its unique 3-dimensional form constructing a dreamlike castle; Birth and Blossom (Earrings) married pearls and emeralds — the earrings' elegant and delicate contours celebrate the convergence of land and sea; A Lyrical Moment (Bangle) depicts vivid childhood dreams through swirls in a fusion of colors composed in a childlike manner; A Tale of Two Dragons (Brooches) is the rebirth of a Qing dynasty white jade belt hook with its jeweled mirror images breathing a new life into the mythical legend of the Chinese dragon teaching its son; Apsara (Brooch) has its roots in the Buddhist murals at the Dunhuang Grottoes along the Silk Road, the goddess' ethereal body expresses the love of life and symbolizes cosmic energies. A Tale of Two Dragons and Apsara received much acclaim at the 2016 New York TEFAF.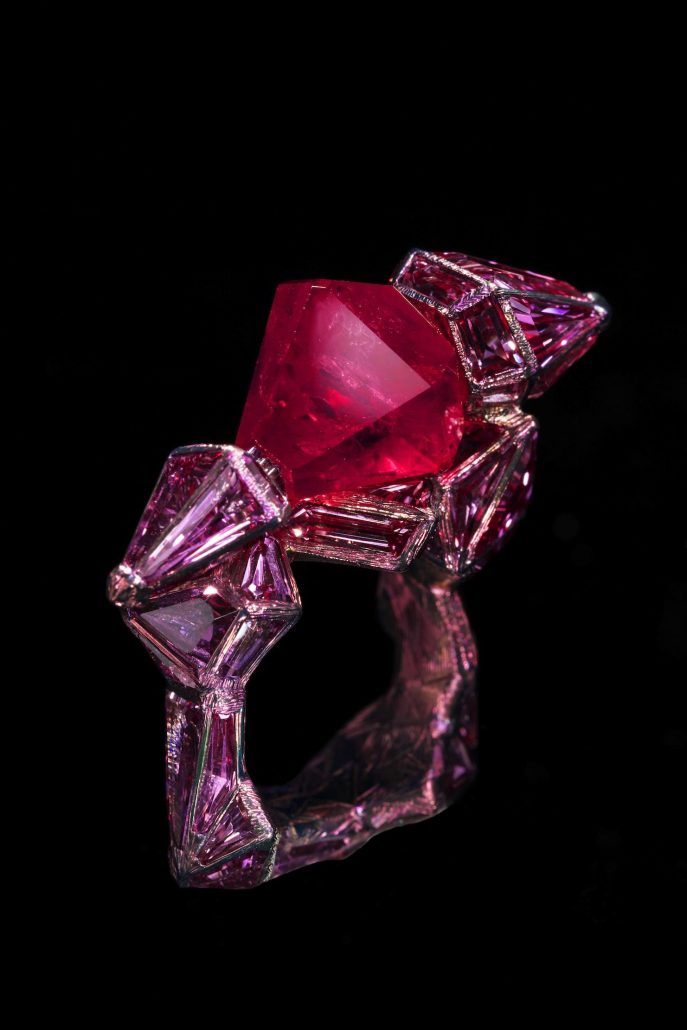 Burmese Hexagonal-shaped Ruby 17.58ct Pink Sapphire, Titanium
The poetry of harmonious colors, geometric forms and travelling light is expressed through the meticulous construction of a ruby castle – a dream castle inspired by the mysterious, microscopic world of nature.
Ruby, an emblem of good fortune, carries the color of a dragon's glowing eye. It symbolizes love, and is regarded as the Queen of all gems. Ancient soldiers believed in the immortal power of ruby and had it set in their skin as a ritual of empowerment.
The creator was attracted by this ruby main stone's outstanding form. By marrying imagination to observation he used pink sapphires to compose a glacier-like structure. A magnificent landscape, the color warms everything up and shows mountains and glacier in vivid, lively pink and red. The pink sapphires' gentle color highlights the red of the ruby; their interaction with light enhances the aura of the piece.
Through meticulous layering, geometric forms bridge one another and create the ring band. Titanium, in a slender state, provides a solid structure. The pointy shapes resemble convey a sense of mystery and grandeur. All these shapes were created to mimic the crystal structures inside a gemstone which can only be seen through a microscope. With gemstones the creator re-construct the inner world of gemstones – giving form to the ring's sculptural style.
Each creation is the outcome of pieces of memories connecting to and transforming one another — from something nothing is created, and from nothing something is created. This abstract, harmonious Ruby Castle is a collective representation of the creator's experiences about nature, culture and the microscopic world.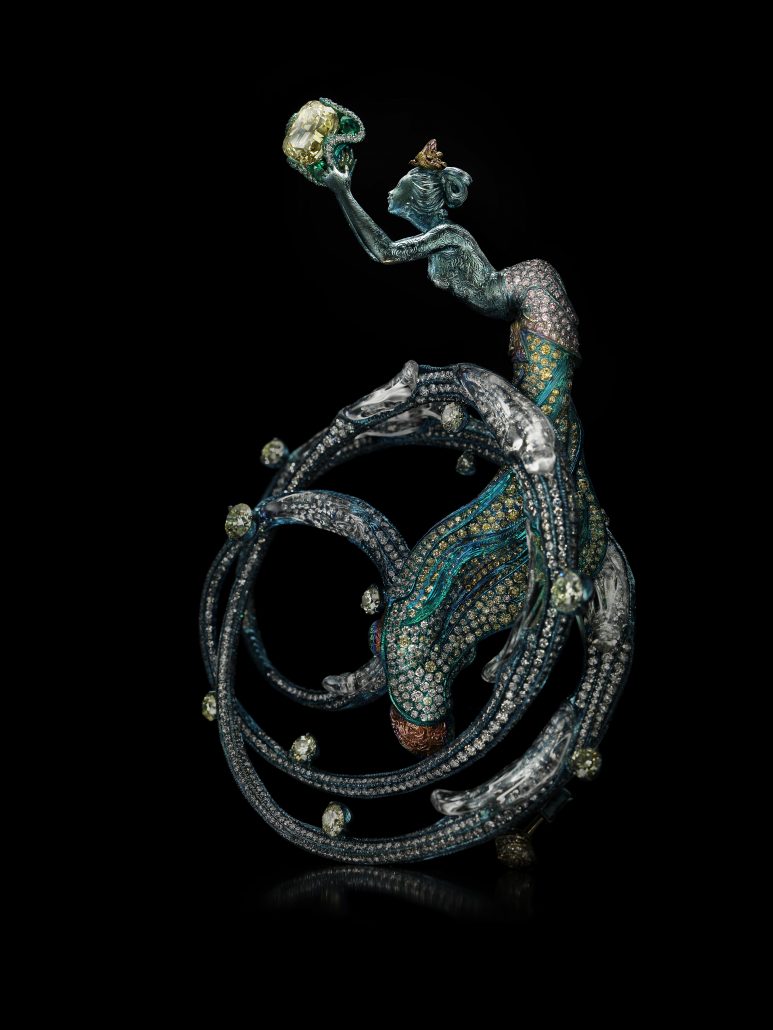 Apsara (Celestial Maiden)|Brooch 
Fancy Intense Yellow Diamond 4.04ct, Emerald, Pink Diamond; Yellow Diamond, Green Diamond, Crystal. 10CM (H) x 8CM (W) x 4CM (D). 2016

Apsara rhymes with time. Originated in the Hindu culture, Apsara has a 2000-year-old history in China. Today, she continues to be celebrated in many Asian cultures. She is beauty and nature, dance and music, fertility and love all in one. With her body tattooed with everlasting cloud-and-water motifs and her gemstone-embellished ribborn resembling trails of stars, her ethereal qualities glow evermore.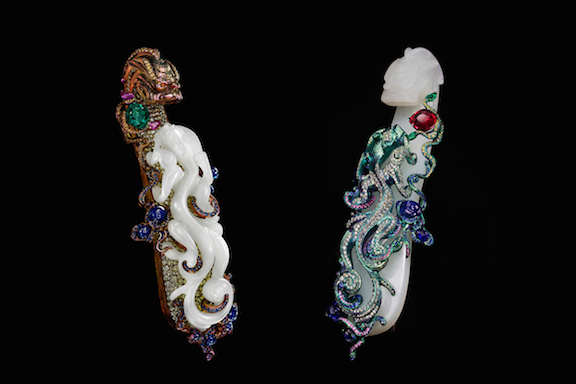 Left: 2.8CM(W) x 13.3CM(H) x 2.7CM(D); Right: 3.3CM(W) x 13.2CM x 3CM(D)
Qianlong Period (1736-1795) White Jade Dragon Belt Hook, Emerald, Ruby, Sapphire, Pink Sapphire, Fancy Colored Diamond. Created in 2016
History of the Belt Hook
In Ancient China (221BC), people started using metal or white jade for belt-hook-making. This accessory was highly popular among royalties, scholars and swordsmen, they regarded the belt hook as a daily necessity and a symbol of high social status. The early belt hooks were made to be practical, but emphasis was also placed on the materials, carvings and forms. The meticulous craftsmanship for belt-hook-making gradually turned the belt hook from a practical object to an objet d'art. By the time of Ming and Qing dynasty (1368-1912), it became an art object for the royal and princely courts of China. During that time, the belt hook was composed of a hook on top and a ring at the bottom, it had an S-shaped profile and it appeared to be bilateral symmetry. Motifs of auspicious animals and mythical creatures were often carved on the belt hook, among these animals and creatures the dragon made the most exquisite motif.
Legend of the Two Dragons
The two-dragon motif embodies a story about justice and bravery. Once upon a time two dragons lived high up on a mountain. They gave rains and winds to ease sufferings of the people. One day, they saved a celestial maiden from the attacks of a monster – to reward them the Heavenly Queen Mother (Xi Wangmu) gave them a divine bead. But neither of the dragons would take it. So the divine bead was thrown back and forth across the sky between the two dragons – which attracted attention from the Jade Emperor. At first the Jade Emperor was angry, but soon he realized how just the two dragons were. He gave them another divine bead so that both dragons could swallow the beads and become gods.
Dragon Educating His Son
In China, most parents wish for their offsprings to be dragon-like. Interestingly, legend has it that the dragon has nine sons, but none of them was born a dragon. Each of the dragon's sons has its own distinguished character, in Chinese architecture, from palaces to temples, and from doorknockers to eaves and roofs, each of the dragon's sons is assigned its place to protect the mortal world with the special power each of them possesses. The Qing dynasty (1736-1795) dragon belt hook in this work shows the motif of a dragon educating his son. It is one of the most popular motifs in China. Often, the dragon-educating-son belt hook is a gift from parent to son or from the old to the young. Emperor Kangxi of Qing dynasty once gave an inkstone depicting this motif to his son who later succeeded him and became Emperor Yongzheng.
Jade and Soul-cultivation
Jade symbolizes moral practices. It is charged with positive energy. Since ancient China it has been a stone of pure, imperial and noble qualities – it embodies charity, prudence, justice, grace and harmony, and the virtues of a gentleman. To work with jade is an act of soul-cultivation – wearing jade means the same. A jade accessory almost always means more than the simple pleasure of adornment.
A Tale of Two Dragons – A Reinvention
The two dragons stand for father and mother, both parents play important roles in a family and contribute to a child's growth. This parental selflessness is no difference from that of the two legendary dragons, and the dragon-like nobility and elegance belong to both sexes. "A Tale of Two Dragons" expresses how good morals begin in the family and extend to society, eventually creating a harmonious, beautiful world.
The creator combined two dragon stories from China and realized this pair of brooches. He sliced the piece of Qing dynasty white jade dragon belt hook (帶鉤) into halves and further doubled the parts, mirroring the white jade dragon father and son with gemstones and titanium. An antique object, once asleep, is now awake with a new life. The pair of dragons expresses how history and modernity join hands to generate new meanings and aesthetic experiences – actualizing the true spirit of "inheritance and eternity".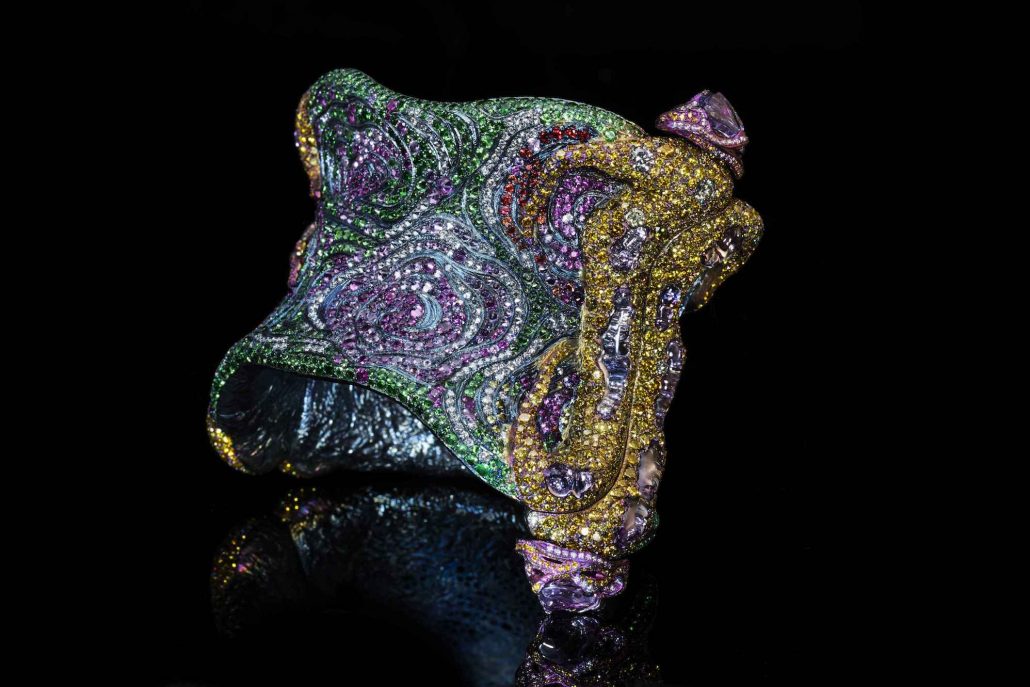 Fancy Colored Sapphire, Sapphire, Tsavorite Garnet; Diamond, Yellow Diamond, Ruby, Amethyst
Is it more lyrical, painterly, or sculptural? Wallace Chan's palette shows a variety of stones, each expressing a kind of emotions. On the bangle they are paved, creating light and shadows, brightening up meandering paths, spirals and circles – patterns that denote everlasting happiness in Chinese culture. He painted with the colors and light of his stones in a carefree, childlike manner, composing wonders. What do the colors tell us about? Kaleidoscopes, candies or balloons? The hues connect to a grown-up's distant memories of his/her childhood imaginations. Eventually we all restore our mind to our innocence, our golden dreams, pink romance, and youth of green – all the precious colors in our moments of life.