Cover: A craftsman engraving the dial of a Hermès Arceau Tigre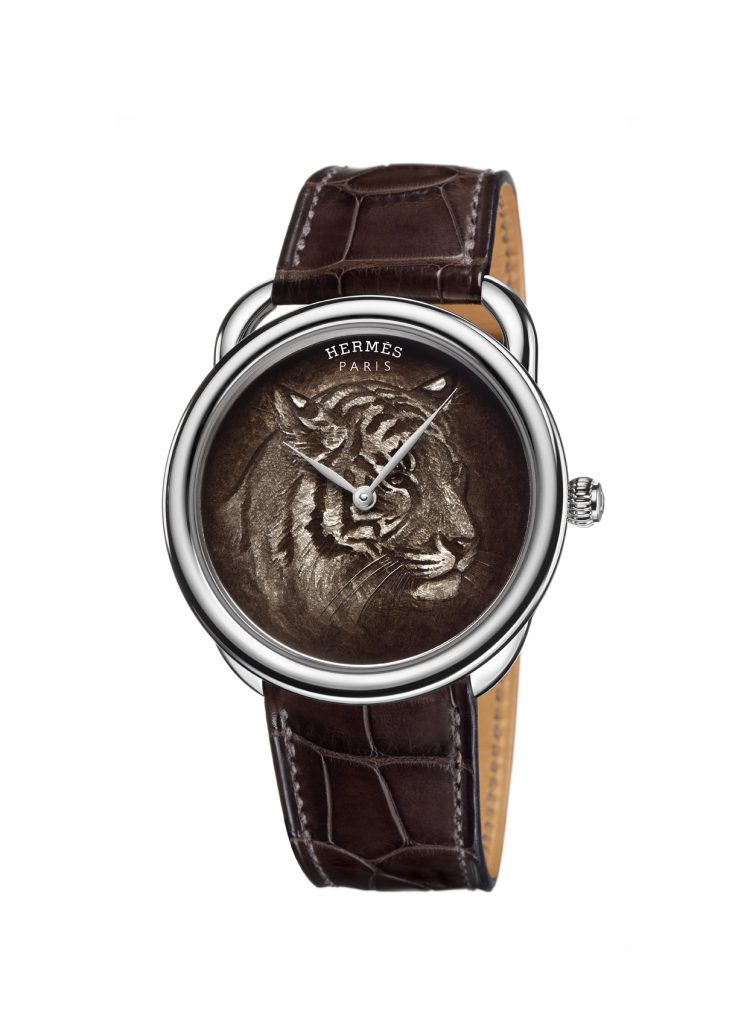 Hermès Arceau Tigre with engraved dial coated with translucent black enamel using email ombrant technique
Value. What is value? What determines whether an object is valuable? The brand or the maker? The construction or the material? The history or the artistic level? Uniqueness or curiosity value? A personal connection or the nostalgic memories associated with it? Usually, it is a combination of all these aspects. And this makes it both difficult and yet easy to attribute a specific value to something because many objects are universally regarded as being valuable, such as the Mona Lisa, while other objects only have a unique value for few people, such as an inherited ring. And yet both these objects arouse feelings that are distinctive. The Mona Lisa arouses more powerful emotions than other paintings in the Louvre and the most expensive jewellery is no match for the memories evoked by an inherited ring. Beauty is in the eye of the beholder. Value is often attributed in the same way. And the more something is desired my many, the higher the value.
But the reverse can also be true. After a period of over-consumption followed by a period of economic recession – which was rather turbulent for many luxury brands, in 2016 we have arrived in the calmer waters of re-orientation. Both in the West and in the East, luxury consumption has shifted down to a lower gear. Different priorities and satiation caused by the mass supply of 'average' articles by designer brands have made luxury consumers more critical and demanding.
This re-orientation – or re-evaluation of what luxury actually is and originally was – has in recent years led to a particularly creative impulse. For decades, fashion and accessory collections have been strongly influenced by retro trends but, whereas in the past this mainly involved design details or prints, we are now increasingly seeing vintage looks and designs being almost literally taken over. Whether this involves the application of materials, soft textures or production technology, whenever a retro element or design is created, increasingly more craftsmen and specialised workshops are being involved for the skilled details. Thanks to increasingly-advanced technology and to computers, much original hand work is currently done by machines. Many skills have thus disappeared or been marginalised and what remains are the highly-specialised skills that cannot (yet) be automated.
These increasingly-rare skills – sometimes only found among older practitioners –now form the basis of a new luxury segment. These Métiers d'Art are carried out by individual craftsmen and artists or by workshops and small businesses that are frequently owned by or affiliated to brands such as Chanel and Hermès, or are part of conglomerates such as LVMH, Kering, Richemont or the Swatch Group. Their knowledge and skills are so valuable that large, luxury groups want to guarantee their future because this unique, skilled hand work is, for them, the new essential element of true luxury.
This is clearly-distinguishable from what is currently so fondly called affordable luxury, with which these groups earn such huge profits. But luxury brands gain their true status from the uniquely-creative and skilfully-crafted products that originally made them great and that only the very rich could afford. Introducing more affordable luxury helped many brands to expand but, if the special nature and quality of the designs suffer as a result, at a certain point the status and identity of a brand will be at risk. And if your clients become bored with you, things can go downhill very quickly. Producing true luxury collections is then the best solution to what a luxury brand can offer and we are meanwhile seeing this much more – not only with fashion, accessories and jewellery but also with watches, where the ladies' collections are becoming an important growth market.
The jewellery watches with which houses such as Cartier, Chaumet, Boucheron and Van Cleef & Arpels have, for many years, been transforming the skills of artistic jewellery into intriguing creations are well known. But decorating watches to an increasingly-high level has also reached the world of high-end watchmaking. Here, the emphasis is less often on decorating them with precious stones but focuses more on engraving, enamel work or other fine techniques such as the use of mother-of-pearl, marquetry, or miniature paintings. And this development is steadily increasing. For example, Hublot joined with the Swiss embroidery specialist Bisschoff for its Big Bang Broderie models, and we saw the advent of aventurine, (coloured glass with metal splinters, an Italian technique dating from the 17th century) on the watch faces of brands such as Parmigiani and Hermès and paillonné (a 19th century enamelling technique) at Jaquet Droz. With a series of models from the Mademoiselle Privé Coromandel collection, Chanel incorporated the ancient Egyptian glyptic technique where carved, inset stones form the motifs on the dials. Cartier worked with granulation – a goldsmith's skill that is over 2000 years old, and in Harry Winston's Precious Weaving models, tiny strips of mother-of-pearl and gold thread were interwoven with silk, an art that is derived from the traditional Japanese Raden inlay work.
The fact that their revived application means we can continue to enjoy these fast-disappearing, artistic skills is perhaps the most valuable of all. True luxury indeed.
By Ruud Van Slooten